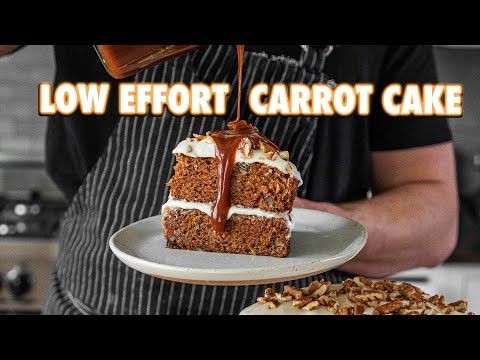 400g Carrots
1 Apple 150g Sugar
2 Eggs
200g Butter
200g Flour
200g ground Hazelnut
2 tsp. Baking Powder
1 tsp. Vanilla Sugar
Pinch of Salt
1 tsp. Cinnamon
1/2 Lemon
100g Powdered Sugar
Chopped Almond (as much as you want)
1. Preheat oven to 175 °C. Peel carrots, remove ends and roughly grate. Peel apple, cut in half, remove core and also roughly grate. Line the bottom of a spring form with baking paper and grease the edges.
2. In a bowl, beat sugar, eggs and softened butter with a hand mixer fitted with a whisk until fluffy. Add carrots, apple, flour, ground hazelnuts, baking powder, vanilla sugar, a pinch of salt and cinnamon and mix until smooth. Pour batter into the spring form and bake it in the oven for about 60 minutes.
3. Then carefully remove the cake from the oven and let it cool. Cut a lemon in half and squeeze out the juice. In a bowl, mix powdered sugar with 2 tablespoons lemon juice. Pour the icing over the cake, sprinkle with chopped almonds and serve.